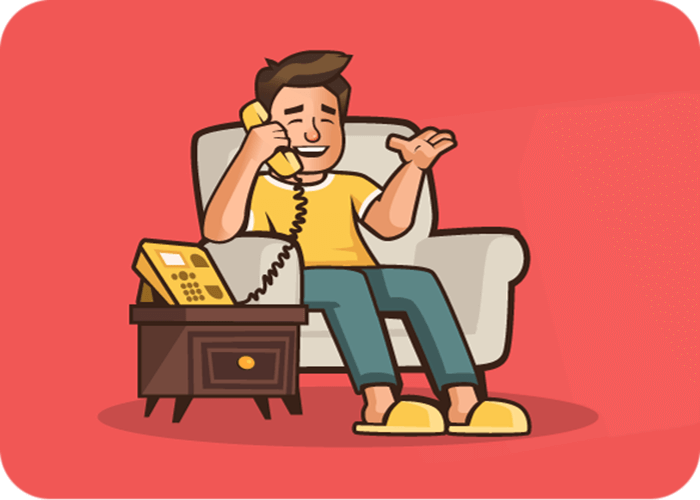 A full featured, VoIP based, hosted Phone Service with all the features you need starting at $8.99 a month?
Home Phone Service*
Only $8.99 Monthly
One Number Included
Single Extension Included
Voicemail Included
Voicemail to Email Included
CallerID is Included
Call Waiting Included
Unlimited Inbound Calling
2,500 Minutes North America Outbound Calling
Outbound Overage Calling @ 1.75 cents/minute
Toll-Free Service Available
Why pay $8.99 a month, I've seen it for less somewhere else.
This is a Private Hosted Business Line
This is not an online VoIP Phone Service that YOU have to look after
We do ALL the hard work!
This includes setting up your phone line AND your voicemail on our PBX, that's right!
It also includes configuring your e911, voicemail to email and your first VoIP phone, everything
Includes ALL features on our PBX: call forwarding, caller ID and three-way calling, you got it!
We manage the updates, security patches, SIP trunks and e911 service, ALL of it
We configure it, we monitor it and we support it
The first phone number is included
* Third Party Internet Access is required to use this service
No Costs Per Feature
We never charge extra fees for any of the standard features with our Basic Phone Service. We even include most premium features with our Business Phone Service package. These are not stripped down, simplified or introductory versions. These are the full features, with all the bells and whistles that our PBX provides. If we have it, you get it. We don't believe in teasing customers.
No Ties To The Desk
With our VoIP Phone service, you can unplug your phone and take it with you. That's right. Your laptop can access your email and other files over the Internet, the same goes for your Phone service. Just plug the phone into your home or cottage network or access the WiFi at the hotel and your calls will come through no matter where you are.
No Busy Signal
Typical phone services are based on copper lines that are only capable of handling a single call. When the first line is in use, the next incoming call will automatically be transferred to the next copper line. That is of course, if one is available. This means extra costs to you.
Busy signals won't happen with our VoIP based phone services as we do not use copper lines. If you only have one phone number and all extensions are in use, the call is transferred to voicemail or forwarded to your cell. You will of course, receive the usual notices that another call has arrived or you can have it send to your email; or both.
True Realized Savings
Phone services can be costly. Very costly, but it doesn't have to be. We've helped many of our customers cut their old phone bill in half, or more!
Our Basic Phone Services is specially designed for residential and home/small office customers. All features are included and you can even skip the phone set and have all calls forwarded directly to a cell phone with voice mail messages going to your email.
All of North America is included and you can even get a phone number from a different city if you wish.
Remote Phone Numbers
Typically, residential customers and home/small offices will have a Local phone number, possibly even a fax as well. With our Basic Phone Services, you can also have remote phone numbers that are local phone numbers in most North American cities (some International cities too) so people calling you don't need to dial long distance.
Connect With Family
Gone are the days of having to pay to call family members at other locations. Imagine a phone service that connects all your family members together under one plan where no costs are incurred to call each other. This is that plan.
You could have family all over the world and not have to pay large long distance costs to keep up with who's doing what.
This plan works for most countries around the world but not all.